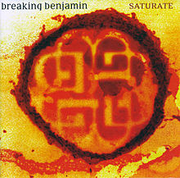 Saturate
is the debut album of the American rock band
Breaking Benjamin
. It was released on August 27, 2002. It was also Breaking Benjamin's first album released through Hollywood Records.
Saturate

Released

August 27, 2002

Record label at time of release

Hollywood Records

Length

49:20

Producer

Ulrich Wild
It was produced by Ulrich Wild. The album featured two singles: "
Polyamorous
" and "
Skin
". Breaking Benjamin, however, wanted "Medicate" to be the second single off the album.
Saturate
peaked at 136 on the Billboard 200 aand 2 on the Top Heatseekers chart.
Track Listing
Edit
1. Wish I May 3:59
2. Medicate 3:45
3. Polyamorous 2:58
4. Skin 3:20
5. Natural Life 4:00
6. Next to Nothing 3:43
7. Water 4:12
8. Home 3:37
9. Phase 4:31
10. No Games 3:37
11. Sugarcoat 3:38
12. Shallow Bay 4:05
13. Forever 3:55